Orangery Greenhouses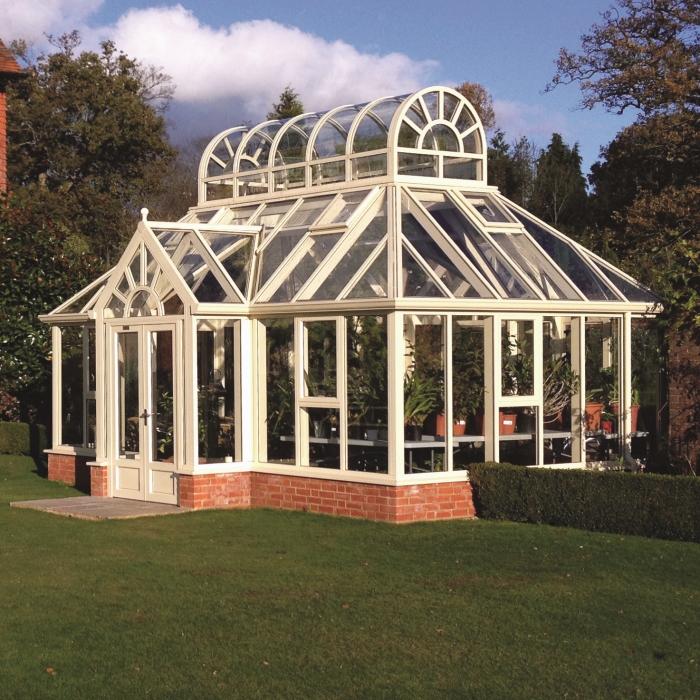 Traditional orangeries were popular with major landowners between the 17th and 19th centuries as a place to grow citrus trees, safe from the harsh weather conditions of the UK.
As well as protecting trees from the frosts of winter, a Greenhouse orangery also allowed the growing season to be extended, enveloping the fruit in the warmth and sunlight passing through the orangery Glasshouse roof.
Over the decades times and tastes changed, and the need for an orangery style Greenhouse evolved. This was in part due to a greater amount of citrus fruit being brought into the UK as imports, rather than being grown locally.
But while the traditional orangery found a broader role as a growing space for any tender and exotic plant, the name stuck. The Victorian orangery Greenhouse survives to this day for a fairly wide category of conservatories and large Greenhouses.
Now a growing 21st-century fan base of budding gardeners and outdoor enthusiasts are 'switching on' to the benefits of a traditional orangery for a whole range of everyday activities.
From a glass orangery Greenhouse that you can relax or take afternoon tea in, to a practical freestanding orangery that allows you to grow the tenderest of plants, traditional orangeries are as popular and useful now as they have ever been.
What is an orangery?
An orangery Greenhouse is typically classified as a brick or stone structure that is an extension of the home. It usually has a glass roof that covers less than 75% of the overall roof area, and glass walls covering less than 50% of the total wall area.
The windows of a traditional orangery are large, normally south-facing, and it usually has a flat roof with a glass lantern. 
Some orangeries may have wooden shutters to retain heat during the nighttime or a heating source such as a stove.
Orangery vs. Greenhouse
Although many orangeries look like larger Greenhouses, there are certain features that originated due to their very specific purpose.
Some traditional orangeries are similar in appearance to lean-to Greenhouses; this is not a space-saving measure, but was originally because a masonry wall can act as a useful store of heat This helps keep the interior temperature orangery style Greenhouse steady overnight or during shorter periods of bad weather.
Modern lean-to Greenhouses work in much the same way, adding a walled garden in the classic traditional orangery manner to even a modestly sized 21st-century garden. The result is a small orangery Greenhouse that has utilised the space available. 
Larger standalone Greenhouses often have several rows of brickwork to stand on, again adding this warming masonry element to the freestanding orangery structure. This means it takes the form of a lean-to Greenhouse without being built against an existing wall.
Orangery vs conservatory
Regularly conservatories have a larger glass roof covering compared to traditional orangeries, and a low brick base. The walls are usually at least 50% glass, and the structure is normally built against the wall of the house with a closing door or window. Conservatories have a standalone heat source, which is separate from the main house. 
Is an Orangery better than a conservatory?
When choosing between a traditional-style orangery or Greenhouse conservatories, there are a number of factors to consider. Orangeries are generally larger Greenhouses and best if you plan on housing a lot of plants. They also provide a more consistent temperature, making sure your plants are kept cool in summer and warm and sheltered over the winter months.
Orangeries can be a more stylish addition to your garden compared to classic Greenhouse conservatories, due to the appealing traditional design. They are also considered better in terms of adding value to your home.
Deciding whether an orangery or conservatory is better, therefore, depends on how you intend to use the Glasshouse, the space you have, and your personal budget. The Hartley Botanic range of orangeries can also be adapted to your specific style needs and garden restrictions.
Building an Orangery
Our larger orangery Greenhouses work well for growing all manner of tender and exotic plants, and many of our custom made models can be constructed on a masonry base if you want the warming effects of a citrus wall in a freestanding orangery. 
Alternatively, you can have one exterior wall of your house act as a citrus wall, combining it with a lean-to Greenhouse to trap the heat and provide some vertical growing space.
Our Victorian orangery Greenhouses and botanic Greenhouse range provide the appearance of a traditional orangery, for an elegant and timeless addition to any garden.
Meanwhile, larger orangery Greenhouses can be partitioned to provide both growing space and a separate relaxation area, which can be furnished with a table and chairs for afternoon tea.
Building any of these structures depends on the type – a lean-to orangery Greenhouse must obviously be placed against a wall, while you may need to build a masonry base before the glazed elements are placed on top.
In any event, with a properly laid base and well-constructed masonry elements, a good-quality orangery Greenhouse by Hartley Botanic should serve your needs for several decades, or longer.